|SANIBLAKAS
FOUNDATION

SANIBLAKAS FOUNDATION

PROGRAM THRUST FOR
INTEGRATED EMPOWERMENT FOR SOCIAL

AND ECONOMIC UPLIFTMENT (IESEU)

C.E.S.

C.E.S....
(COOPERATIVE EDUCATION ON SYNERGISM)

PROGRAM

COOPS ARE
AGAINST WAR !
in BAYAN NEWS Coop Section
by Ding Reyes
and Joydee Robledo
of SanibLakas Foundation
C.E.S. Program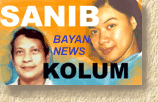 PLEASE SCROLL DOWN

"COOPERATIVES AND THE CHALLENGE OF SYNERGISM" (Pamphlet*)
Special Prologue: Cooperativism Can Empower the People

by former Gov. Roberto Pagdanganan
Synergism of Cooperatives and its Role in the People's Empowerment

by Joydee C. Robledo
Cooperatives and the Challenge of Synergism (Article)

by Ed Aurelio C. Reyes
Synergism, the Cooperatives, and Poverty-Alleviation

by Ed Aurelio C. Reyes
.
*NOTE: The pamphlet, titled Cooperatives and the Challenge of Synergism is a "seed" that seeks to elicit comments (agreements/disagreements with explanations from experiences) to be sent to us by cooperative leaders and members, which would be incorporated in the book project (with the same title).

---


.THE SANIBLAKAS C.E.S. PROGRAM
The C.E.S. Overall Program Design

Seminar Series Sample Modules

Resolution by NATCCO

---

ADVOCATES' ORGANIZATION
A.C.E.S. (Advocates of C.E.S.): Declaration of Commitment, Notes on Membership

and Organization, and Founding Signatories (as of November 20, 2000)



.

back to website opening window-->.
..